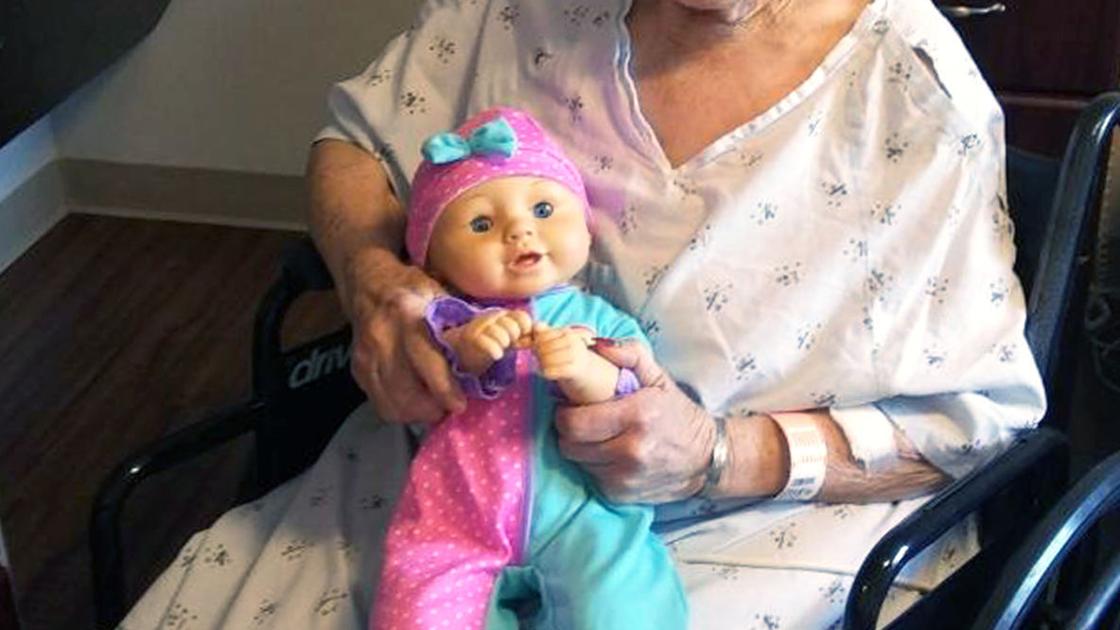 [ad_1]
When Treca Finchum's mother was admitted to hospital after a year and four months in Asbury Place, Maryville, she had a thick layer of dried saliva tangled in a corner of her mouth which hospital nurses cleaned up.
She was awake but not responding. Finchum said when she leaned over and shouted her mother's name near her face, she opened her eyes for a moment. She said doctors told her they didn't think they would be able to keep her alive, and she was returned to Asbury on hospice care.
On December 29, 2020, Carolyn Finchum passed away in her bedroom in Asbury. Around the same time, her daughter contacted lawyers in Nashville, preparing a lawsuit against Asbury, alleging medical malpractice.
Carolyn was diagnosed with Alzheimer's disease in 2019. Finchum didn't want to put her in a nursing home, but said she had no other choice. No other family member wanted to take care of her because they had a bad relationship. Her care was left to Finchum, who also disliked her mother.
"We thought when she had Alzheimer's disease that she had gotten mild because they usually turn (right) the opposite; no, it just got worse, "Finchum said. "She was mean, but she was my mother."
When she placed her mother in Asbury's Assisted Living Program, since it was close to her home in Alcoa, she said she told employees her mother was "mean" and never turn your back on him. Asbury has transported Carolyn to a mental institution on two separate occasions, Finchum said, for attacking staff.
More than money
She said it wasn't about the money or her mother's memory. She believes the lawsuit has the potential to fix a problem she says she has seen since the 1980s: neglect in nursing homes.
After working at a nursing home, Finchum said she quit because she was tired of how patients were treated by staff. She said she believed her great-grandmother and grandfather were also abused.
"The money won't bring my mom back, you know, it won't do anything," Finchum said. "I have already paid for a funeral, it has paid off. So, you know, it's not the money.
The complaint was filed with the legal division of the Blount County Circuit Court on September 17 and cites her mother's wrongful death for medical malpractice.
It included two counts of negligence: "Tennessee medical malpractice negligence" and "gross, willful, gratuitous, reckless, malicious and / or intentional negligence."
Cathy Canning, spokesperson for Asbury, said on behalf of the company: "We deny the allegations in this complaint, but we sympathize with family members who must overcome these challenges and the grief of losing a loved one. . Asbury is a faith-based, non-profit organization that has served the elderly of East Tennessee for over 65 years, many of whom suffer from complex physical and cognitive challenges. The health and well-being of our residents has always been and remains our top priority. "
In 2016 and 2018, two court cases were filed against Asbury for medical malpractice. The Daily Times does not know the ruling in either case.
In addition, a Daily Times report from September 2018 said Asbury was fined $ 45,000 by the Tennessee Department of Health and was prohibited from taking on new residents for a limited time. . Investigators inspected Asbury's facilities and found they violated basic administration and service standards.
Each month, the Centers for Medicare and Medicaid Services update and publish a list of nursing homes in America with quality issues.
As of August 2021, Asbury had been on the list for 27 months, the longest of any nursing home in Tennessee.
"If you can't work with children in adult bodies," Finchum said, "you don't have to be in a nursing home because that's all they are, they are children in adult bodies. "
Build a folder
The court complaint says Asbury did not "implement a system to ensure Ms Finchum was properly supervised and protected against acts of abuse and neglect".
Asbury's Assisted Living Program terms and conditions state that they are responsible for creating a plan to ensure the well-being of their patients. He adds that if a patient's condition worsens to the point that their facilities are unable to maintain their well-being, they will be transported elsewhere.
Finchum visited his mother several times a week until February 2020, when Asbury stopped allowing visits due to the COVID-19 pandemic. The next time Finchum saw his mother was in December 2020, when she was rushed to UT Medical Center. She died shortly after.
In December, Finchum got a call from Asbury, informing him that his mother needed a hospice due to certain test results. Finchum was unaware that tests had been carried out and said she had requested that her mother be sent to the hospital.
Finchum said the on-site doctor Jennifer Ranson and a nurse recommended that he take a lawyer because it looked like negligence. Asbury's test results were two weeks old, she said, adding that Ranson told her her mother should have been in hospital three weeks ago.
Court records show Finchum's mother suffered from malnutrition, dehydration, infections, delayed care, abuse, neglect, severe pain and death due to inadequate care.
His death certificate lists complications from Alzheimer's disease as the leading cause of death and COVID-19 infection as the underlying cause. At the end of the summer, Finchum said Asbury staff told him his mother had contracted COVID-19 but had recovered, except for a mild cough.
She said she hadn't heard anything from them until December.
The court complaint says Finchum "seeks compensatory and punitive damages in an amount to be determined by the jury, plus costs and any other relief to which she is entitled under the law."
[ad_2]