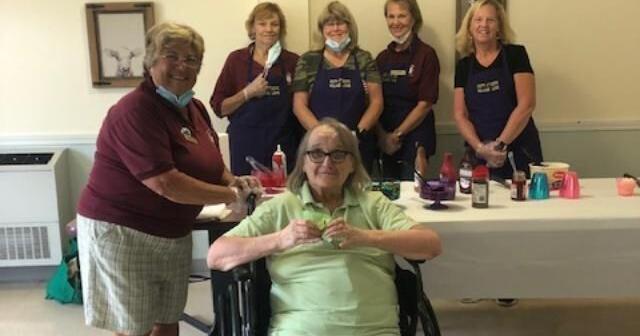 All about "The County of Presidents"
Did you know that Norfolk County was the birthplace of four US presidents? Record of Deeds William O'Donnell explains all this and more when he presents "The County of Presidents" at the next meeting of the Foxboro Historical Society – 7 p.m. Tuesday, September 27, in the Library's Community Meeting Room Boyden, 10 Bird St. O'Donnell's presentation will include background information on the four presidents: John Adams, second president; John Quincy Adams, the sixth; John F. Kennedy, the 37th; and George H. Bush, the 41st.
Lions serve treats to nursing home residents
Members of the South Attleboro Village Lions Club recently visited Attleboro Healthcare to serve sundaes to residents of the retirement home. Club President Pat Allard and Connie Fedelia, member and resident of the home, served ice cream with Cheryl Olson, Norma Kimmell, Karen Smith and Karen Leclerc. Residents received vanilla ice cream with a variety of toppings available. The special treat was followed by a musical program from the Activities Director. The Lions hope to repeat this program at other facilities in the future.
"Community Preparation Night" in Foxboro
The Foxboro Fire Department is hosting a "Community Preparedness Night" from 5:30-6:30 p.m. Wednesday, along with Foxboro Social Services, Veterans Services, the Department of Health and SEMRECC. The event will include demonstrations on hands-only CPR, stopping bleeding, applying a tourniquet, Narcan awareness, fire detection tips, using fire extinguishers, preventing falls, senior safety and how to build an emergency kit. Social Services staff and the Veterans Services Officer will be on hand to speak to individuals, especially seniors and veterans, and families, about available resources and programs. The event will take place at the Public Safety Building, 8 Chestnut St.
Have you ever heard of the Saturday Night Girls Club?
The Saturday Night Girls' Club is the subject of a free presentation hosted by the Seekonk Public Library from 6-7 p.m. Wednesday. The club was a social group for young immigrant women living in Boston's North End that produced Paul Revere Pottery. Rick Hamelin, a master potter, will present on the group and their pottery, including a demonstration of their materials, techniques and products. The program will take place in the Library's Great Meeting Room, 410 Newman Ave. Sign up at bit.ly/3UbGVuZ. Entrants are also encouraged to view a copy of the library's historical fiction novel "The Saturday Evening Girls Club" for more information.
Do you have interesting news that you would like to see mentioned in the On the Way column? Email it to Natasha Connolly at news@thesunchronicle.com.