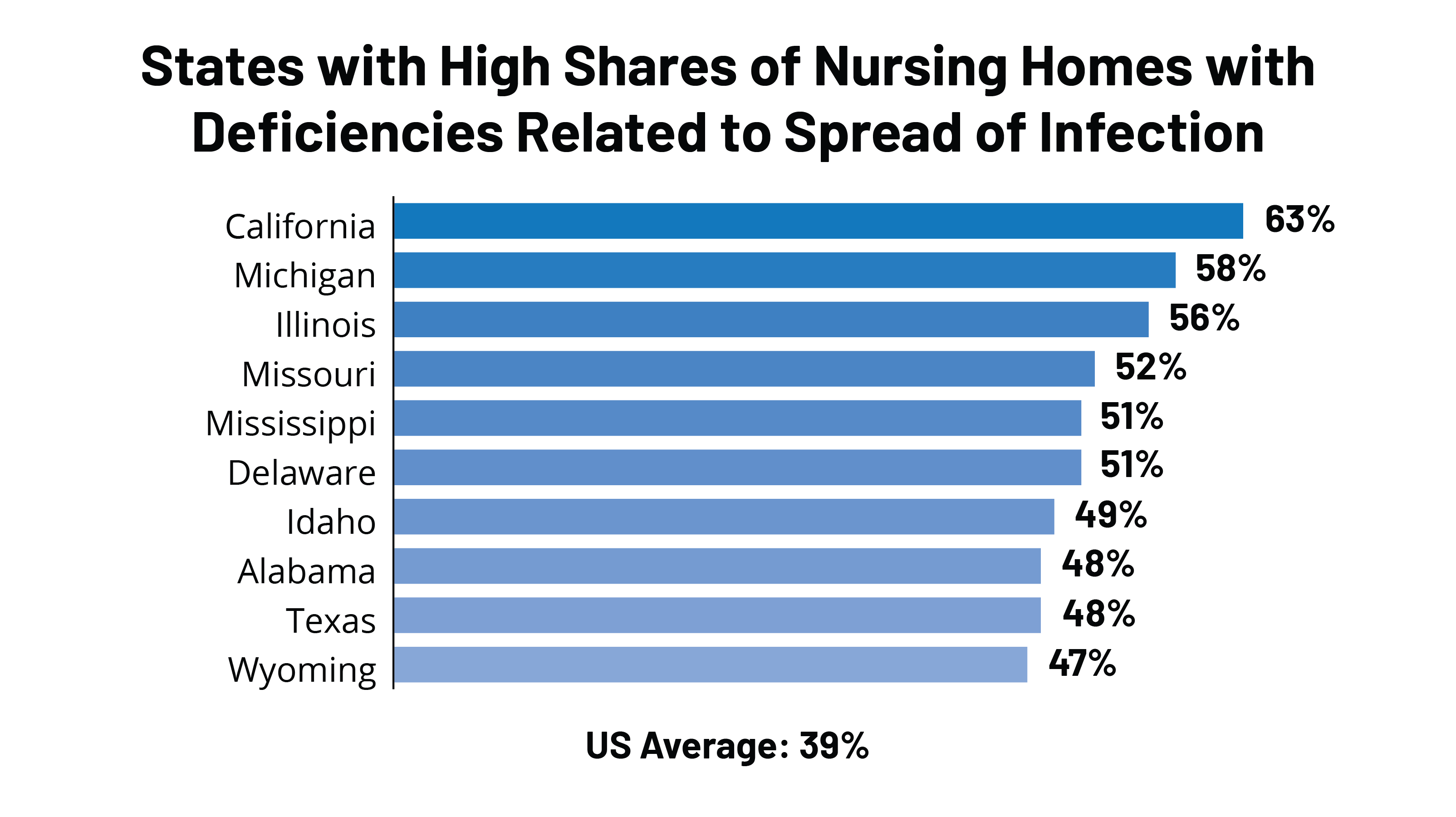 Introduction
As knowledge about COVID-19 continues to evolve daily, experts agree that certain populations are particularly vulnerable to severe cases of infection – those with chronic illnesses, weakened immune systems and who are old. Nursing facilities provide care to populations with these characteristics, and residents of these facilities are at particular risk of developing severe illness or death if infected. In 2017, approximately 1.3 million residents received care at 15,483 nursing facilities in the United States (Table 1). This data note provides key data points to highlight the potential implications of COVID-19 on nursing facility residents and overall operations.
Share of nursing home residents receiving respiratory treatment
Many residents of nursing homes have underlying respiratory problems and may be at particular risk of illness if they contract coronavirus. A common symptom of coronaviruses is respiratory illness. Approximately 16% of all residents of nursing homes in the United States received respiratory treatment in 2017, which includes the use of respirators/ventilators, oxygen, inhalation therapy and other treatments. Given the implications of this virus on the respiratory systems, these residents could be at greater risk of serious consequences if they were to become infected. In states like Colorado and Utah, more than 30% of nursing home residents receive respiratory treatment (Table 1). The supply of ventilators is also crucial to consider, given the increased demand for this equipment for those severely affected by COVID-19.
Share of nursing home residents suffering from depression
Anxiety and depression are also common among nursing home residents, and these health issues can be exacerbated by fear, worry, or social isolation due to COVID-19. Residents of nursing homes are at risk of being diagnosed with psychiatric disorders, with nearly 40% having exhibited symptoms of depression (Table 1). In Washington, where media attention has focused on the coronavirus outbreak in nursing facilities, nearly half of residents have experienced depression or depressive symptoms. Research on family involvement in long-term care has shown that family visits can have potentially positive effects on cognitive and behavioral health diagnoses. Thus, visitation restrictions in nursing facilities, which are currently being implemented to reduce the risk of exposure among residents who would be vulnerable to disease if infected, may also have negative health effects. mental health of residents and increase the incidence of depressive symptoms.
Share of nursing homes with gaps in infection control
Deficiencies related to the spread of infectious diseases are relatively common in nursing care facilities, with nearly 40% of facilities having at least one infection control deficiency in 2017 (Table 1). Deficiencies related to infection control are the most common deficiencies reported by nursing facilities, followed by food hygiene (36%) and accidental environment (34%). In Delaware, Mississippi, Missouri, Illinois, Michigan, and California, more than half of facilities reported at least one infection control-related deficiency (Table 1 and Figure 1). Given the importance of following infection control procedures to mitigate the spread of the virus, facilities that have reported infection control deficiencies in the past may be at high risk for a COVID-19 outbreak. 19.
EHPAD occupancy rate
Resident density could impact how quickly a COVID-19 outbreak could spread through a particular facility. Nationally, four out of five nursing facility beds were occupied in 2017, with some states such as New York and DC reporting even higher occupancy density (over 90%) (Table 1). Higher occupancy density puts residents at risk of faster spread.
In the early stages of the COVID-19 epidemic in the United States, residents of nursing care facilities were more affected than any other group and account for a significant share of deaths. The physical and mental health conditions of these residents, the facilities' ability to deal with infectious diseases, and occupancy rates are all important factors when it comes to combating the spread of COVID-19 in homes. nursing and other vulnerable populations.
State
Total number of nursing facilities
Total number of nursing home residents
Share of residents in facilities receiving respiratory care
Share of residents in facilities with depression
Percentage of establishments with deficiencies related to the control of infectious diseases
Facility occupancy rate
Alabama
228
22,482
18%
31%
48%
84%
Alaska
18
608
12%
35%
33%
88%
Arizona
145
11,343
23%
31%
22%
70%
Arkansas
231
17,439
18%
32%
39%
71%
California
1198
101,030
16%
23%
63%
85%
Colorado
221
16,078
32%
45%
42%
78%
Connecticut
223
22,653
16%
34%
31%
85%
Delaware
45
4,181
15%
32%
51%
87%
Dist. Columbia
18
2,380
14%
24%
39%
92%
Florida
690
72,741
17%
32%
42%
87%
Georgia
359
33,043
14%
41%
19%
83%
Hawaii
42
3,474
ten%
24%
43%
85%
Idaho
71
3,319
28%
49%
49%
63%
Illinois
731
66,643
14%
52%
56%
74%
Indiana
552
38,682
15%
41%
35%
73%
Iowa
437
23,638
15%
46%
22%
77%
Kansas
276
14,657
18%
47%
34%
77%
Kentucky
285
22,760
20%
36%
37%
85%
Louisiana
277
26,169
12%
26%
29%
77%
Maine
100
5,947
13%
49%
15%
87%
Maryland
226
24,414
14%
37%
40%
87%
Massachusetts
399
38,673
11%
38%
30%
84%
Michigan
443
38,062
16%
34%
58%
81%
Minnesota
375
24,755
15%
46%
40%
86%
Mississippi
204
15,950
12%
27%
51%
88%
Missouri
518
37,874
16%
38%
52%
70%
Montana
72
4,153
20%
43%
42%
65%
Nebraska
214
11,394
18%
50%
31%
72%
Nevada
61
5,336
27%
29%
38%
76%
New Hampshire
74
6,442
15%
41%
26%
87%
New Jersey
364
44,033
16%
25%
31%
84%
New Mexico
74
5,693
24%
39%
36%
79%
New York
609
101,518
14%
38%
20%
90%
North Carolina
429
35,763
16%
33%
17%
81%
North Dakota
80
5,531
15%
51%
34%
91%
Ohio
966
73,826
17%
52%
28%
82%
Oklahoma
303
18,361
18%
42%
30%
64%
Oregon
136
7,317
17%
32%
33%
65%
Pennsylvania
693
76,652
18%
36%
46%
87%
Rhode Island
83
7,817
9%
44%
5%
90%
Caroline from the south
191
16,993
14%
31%
21%
86%
South Dakota
108
5,984
18%
54%
43%
90%
Tennessee
314
26,481
19%
35%
31%
73%
Texas
1,227
92,250
12%
37%
48%
69%
Utah
99
5,178
32%
48%
43%
63%
Vermont
36
2,440
14%
49%
14%
79%
Virginia
286
27,595
18%
35%
38%
86%
Washington
217
15,993
17%
46%
43%
77%
West Virginia
123
9,251
18%
40%
42%
87%
Wisconsin
374
24,239
15%
45%
38%
77%
Wyoming
38
2,428
29%
47%
47%
82%
UNITED STATES TOTAL
15,483
1,321,663
16%
37%
39%
80%
SOURCES: KFF analysis of OSCAR/CASPER 2017 nursing facility data