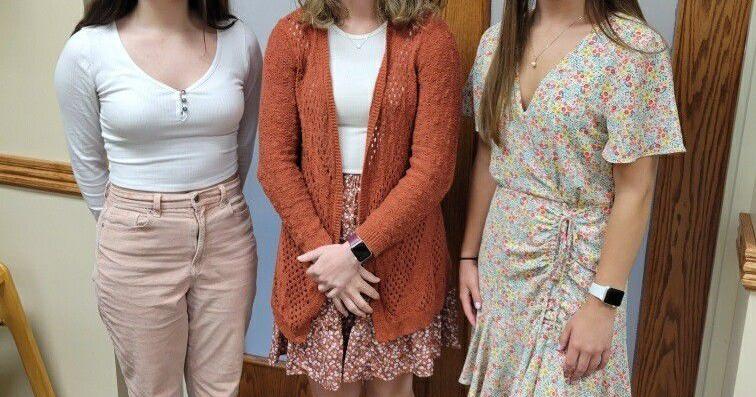 LAGRANGE — Three graduating seniors have each received a $1,000 scholarship for 2022 from the Parkview LaGrange Foundation as they pursue health-related studies.
High school students Allie Springer, Pilar Canedo and Samarah Orr were selected to receive the scholarships, which are made possible in part by donations to the foundation and proceeds from the Parkview LaGrange Hospital Gift Shop. Hospital volunteers provide sales assistance in the store and they have chosen to have a positive impact on the community by using proceeds to support scholarships for area residents pursuing an education in Health care.
"These recipients have demonstrated a commitment to service to others, academic and athletic excellence, personal initiative, mentorship and interpersonal skills, and community involvement, all of which will serve them well in their studies and careers in the field. health," said Christina Blaskie, head of the service. excellence, volunteers and the PLH gift shop. "We congratulate these winners and look forward to a bright future for them."
Allie Springer, from Westview Junior-Senior High School, will study biochemistry at Hillsdale College in preparation for medical school. The daughter of a dairy veterinarian and an elementary school nurse, Springer hopes to one day have her own dermatology practice in LaGrange County.
Both academically and athletically successful, Springer was an award-winning member of the varsity basketball and volleyball teams during all four years of high school, serving as captain of each team during her junior and senior years. She has served on the student council, in a student-run community service club, and in the school's advanced choir, as class president, as a math peer tutor, and as president of her chapter. of the National Honor Society. She is very active in her church, having served as a worship leader on the student leadership team.
Springer caught the aviation bug as a teenager and started taking flying lessons at age 15. She made her first solo flight on her 16th birthday and spent her 17th birthday taking oral exams with a Federal Aviation Examiner for her pilot's license, which she received. She also worked as an office assistant for the Goshen Municipal Airport Flight School during her junior and senior years.
Pilar Canedo of Lakeland Junior-Senior High School will attend Purdue University to study nursing. Canedo feels called to work in health care to alleviate suffering, especially in the area of ​​mental health. A year-long stint at the Bowen Center further attracted her to the field. Her long-term goal is to become a psychiatric nurse practitioner or psychiatrist.
Canedo was the valedictorian of his class, accumulated perfect attendance, and excelled athletically and academically while working through the school year and summer.
An award-winning three-year basketball letter-winner, Canedo was also a three-year member of the National Honor Society and the Varsity Team, where she served as team captain. Service to others has been a theme in her life, as she has volunteered at blood drives, mentored classmates, sung in nursing homes, volunteered to help very young players at camp Lakeland Girls' Basketball and co-founded a community project, Seniors. Serving Seniors, which served meals to LaGrange County seniors and others in need during the holiday season.
Samarah Orr, from Prairie Heights High School, will study nursing at Indiana Wesleyan University. An academically strong student, she balanced a variety of interests while focusing on service to others. Orr's desire is to live and share his faith while helping others through difficulties, a vocation that developed during his final year internship in the Health Professions Education Program at the Impact Institute at Parkview LaGrange Hospital, where she worked as a patient care technician in the medical department. operating room.
Orr was a member of the National Honor Society for two years; one honor roll "A" member every four years; a three-year varsity member and team manager of the tennis team; a three-year member of the English academic team; an active member of the Leo club, participating in community service; an Indiana State School Music Association gold medalist for her freshman performance on the piano; and senior president and four-year member of LaGrange Community Foundation LIFE, a youth philanthropy and service organization.
Through his church, Orr has participated in a missionary trip to Haiti, the church's worship group, children's ministry, and a ministry serving single mothers in the community.
The scholarship program is administered by Parkview LaGrange Foundation. Fellowship recipients are selected by a review committee of foundation and volunteer leaders through an impartial process that protects applicants' personal information, so reviewers strictly vote on the essay responses contained in the nominations.
The scholarship winners were honored at a private reception at the hospital on June 8. Jordi Disler, President of Parkview LaGrange Hospital, congratulated the winners.
Proceeds from the 2021 Paddle for Parkview have also contributed to this scholarship fund, which is supported by the generosity of donors. For more information on donating to the scholarship fund, contact christina.blaskie@parkview.com.