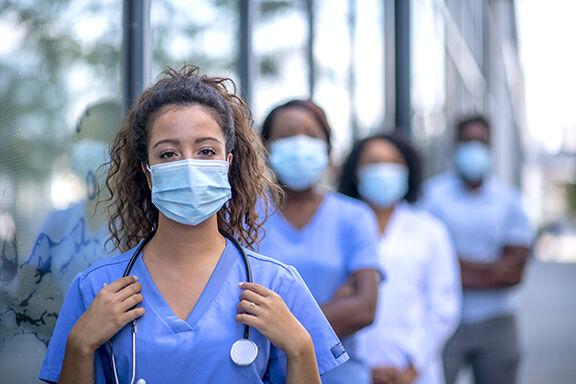 [ad_1]
Health officials say the continued rise in the number of COVID-19 patients requiring hospital care is draining resources and staff.
"We are all stretched out and our staff are stretched out," Dr Harold Naramore of Blount Memorial Hospital said at a press briefing Wednesday morning. "It's not just our nurses. These are our respiratory therapists, the pharmacy staff, the people who prepare the meals and the people who clean the rooms. They are all stretched.
The state's hospital resources dashboard said on Tuesday that about 10% of the state's hospital beds were available, with just 6% of intensive care beds. Hospitalizations in the state decreased slightly from the peak reached on September 9, with 3,831 patients with a confirmed case of COVID-19. As of Tuesday, there were 3,585 patients, including 1,071 ICU patients and 758 patients requiring ventilators.
Covenant Health reported 339 confirmed patients in its hospitals on Wednesday, with 406 confirmed or suspected cases of COVID-19. Of these, 86% were not vaccinated and 94% of intensive care patients were not vaccinated.
At Cumberland Medical Center in Crossville, there were 41 patients with a confirmed diagnosis of COVID-19 and 59 patients confirmed or suspected of having the virus. Of these patients, 88% were not vaccinated while 100% of intensive care patients were not vaccinated.
Hospital staff are being asked to work longer hours, care for more patients and not be absent.
"Almost all of these people could have jobs at higher pay rates, especially nurses, and they chose to stay here and help this community in a time of near crisis," Naramore said.
Naramore spoke of patients on ventilators in their 30s, 40s and 50s.
"It's very sobering. I assure you it's real. I assure you this is happening in your community, and I assure you that we need your help, "he said.
Dr James Shamiyeh of the University of Tennessee Medical Center said hospitals were trying to be creative with staffing and had called for National Guard help in some areas, but he said, "There is no There really is no additional staff to bring in from outside the community. There is not much we can do. As you start to see more ICU patients, sicker ICU patients, that's why we need the community's help so badly.
The outbreak is not only impacting patients with COVID-19, he added, but all patients requiring hospital care.
There have been incidents where patients and families have been verbally abusive of staff, Naramore said.
"Please be kind when using our services," Naramore said. "They really don't deserve this."
Dr Mark Browne, of Covenant Health, said the outbreak was also having an impact on emergency services.
"It was a bit of a perfect storm," said Browne.
As hospitals see an increase in the number of hospitalized patients with COVID-19, they have seen a dramatic increase in the number of patients presenting to the emergency room with symptoms of COVID-19. Hospitals also accommodate patients with other illnesses and injuries. In some Covenant Health facilities, emergency departments have reported nearly double the volume of patients. Patients experience longer wait times to be seen and then transferred to an upstairs bedroom – because, as Browne noted, they need to have a bed for these patients.
"It takes all of our health care systems a lot longer to get patients out of the emergency department than we would normally transfer in a relatively short period of time," Browne said. "So we are caring for patients longer in our emergency departments, which then reinforces everything else. "
The Covenant Health Daily Dashboard reported that Cumberland Medical Center had 38 confirmed hospitalizations due to COVID-19, with 52 patients confirmed or suspected of having the virus. There were 10 intensive care patients in the hospital, with an average patient age of 54 years. The hospital reports that 84% of all COVID-19 patients are not vaccinated and 100% of intensive care patients are not.
Across Covenant's healthcare system, 84% of all COVID-19 patients were unvaccinated and 91% of intensive care patients were not vaccinated.
Browne said the community can help close the backlog in emergency services.
If people have mild symptoms, they are advised to see emergency care centers or their primary care doctor. Additionally, hospitals are asking people looking for a COVID-19 test to find other providers in the community.
Browne told anyone with severe symptoms – such as chest pain, shortness of breath or symptoms of stroke – to seek immediate emergency treatment.
He noted that emergency departments sort patients based on their symptoms, and people who arrive after you may be seen before you.
"Be patient and be kind," Browne added. "Our staff are extraordinarily busy. They are extraordinarily tired. They do their best every day. It is really the heroes of this circumstance that we are going through. We have people who have stepped up their efforts to work longer and longer. "
Narramore said, "None of us have a crystal ball or know how long it will last or how much it will get worse. But we can work together in our community to improve where we are at.
Pediatric cases
Dr Joe Childs of East Tennessee Children's Hospital said there have been more pediatric cases in recent weeks at the pediatric facility, especially in patients with underlying health conditions. At the time of the press conference, there were 11 patients in the hospital including four in intensive care.
Childs warned that there is a rare complication that young patients who have had COVID-19 may experience. Called multisystem inflammatory syndrome in children, or MIS-C, the hospital treated about 35 patients during the winter wave. Symptoms can appear quickly, Childs warned. Patents and caregivers should contact their provider or go to an emergency room if children have unexplained symptoms.
ETCH provides infusions of monoclonal antibodies to patients at risk of complications. However, one of the most important things adults can do to protect young patients from COVID-19, especially children too young for the vaccines themselves, is to get the vaccine.
"The most important thing you can do in your home right now is immunize the adults around them," Childs said.
Help with vaccines
Naramore urged everyone to get vaccinated.
"Please consider the vaccine. Please look at the science, "he said. "The truth is, if you take the vaccine and you are fully immunized you probably won't go to the hospital and the likelihood of you dying is almost non-existent. "
This will help hospital staff treat patients with severe illness from COVID-19 and other illnesses
The vaccines are safe and effective against COVID-19, medical providers have said, and they help prevent hospitalizations and death from the virus.
Dr Frank Beuerlein of Tennova Healthcare, said more than 1.2 billion doses of COVID-19 vaccines have been administered in the past year worldwide. Peer-reviewed studies show these vaccines to be safe, he said.
"A recent study of 6.2 million people vaccinated found that there was no significant increase in deaths or mortality compared to the unvaccinated population," he said.
He urged people with questions about vaccines to speak to their doctors.
"The people here today have supervised 200,000 doses of vaccine in our community without any significant adverse outcome for anyone," Beuerlein said. "We think the vaccine is very safe and very effective. We ask you to avoid disinformation on the Internet, to follow the scientific evidence. "
With a two-dose vaccination schedule, it still takes about six weeks for people to be fully immunized. In the meantime, Beuerlein urged to wear masks, avoid large crowds and wash their hands frequently.
"Ultimately, it will be the vaccine that prevents unnecessary morbidity and mortality," he added.
While people who have had COVID-19 in the past have antibodies, Beuerlein said studies show that vaccination can double their level of immunity against future infection.
Early treatment
Monoclonal antibodies can help patients who test positive for COVID-19 develop serious illness. However, there are guidelines for this therapy, Beuerlein said.
Monoclonal antibodies are an infusion of antibodies created in the laboratory that reflect the antibodies of recovered patients. This can limit the amount of the virus in the body, he explained, and reduce the symptoms and progression of the disease.
"It's one of the best things we have right now," Beuerlein said.
Therapy is available for people who meet specific criteria: a positive COVID-19 test, mild to moderate symptoms, and a high risk of serious illness. This includes a long list of conditions, he said, such as underlying chronic health conditions, obesity, high blood pressure or older patients.
Beuerlein said patients interested in monoclonal antibodies should search covid19tn.gov for sites offering treatment and not go to the emergency room.
"It's better to go to providers in our communities than to emergency rooms and wait while you have COVID," he said.
MEDIC also accepts patients who have recovered from COVID-19 and wish to donate COVID convalescent plasma used for the treatment of inpatients.
[ad_2]