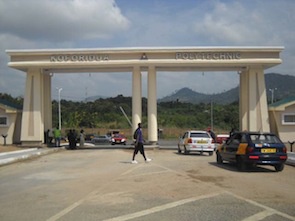 Regional news for Friday, June 26, 2015
Source: starrfmonline.com
2015-06-26
Koforidua Polytechnic will start from this year to offer health courses including nursing and health care programs under its new Faculty of Health and Allied Sciences (FHAS).
The Faculty was created in 2014 as part of the Trust One strategy of the Institution's 2010/2014 strategic plan.
According to the management of Koforidua Polytechnic, "the establishment of the faculty is in accordance with the guidelines of the National Council for Higher Education and the Ministry of Health [policy] to increase science-related programs and ensure access to quality health, nutrition and reproductive services for all people living in Ghana and to promote the development of the local health industry.
The faculty is prepared to prepare students for various professions such as medical laboratory, technician, biomedical technology, phlebotomy technician, delivery technician, nursing and home health care, public health, among others, with the aim of helping fill the gap of needed health professionals in Ghana and the sub-region. Food technology and post-harvest technology are also among the new programs added.
Koforidua Polytechnic, which was established in 1996 with only two HND programs, now has 19 HND programs and nine Bachelor of Technology programs.
Acting rector of Koforidua Polytechnic, Godfred Abledu, told Starr News' Kojo Ansah that the newly added programs do not deviate from the core mandate of polytechnic institutions.
He said the training provided is distinct from traditional institutions as it is based on practice, research and skill development.