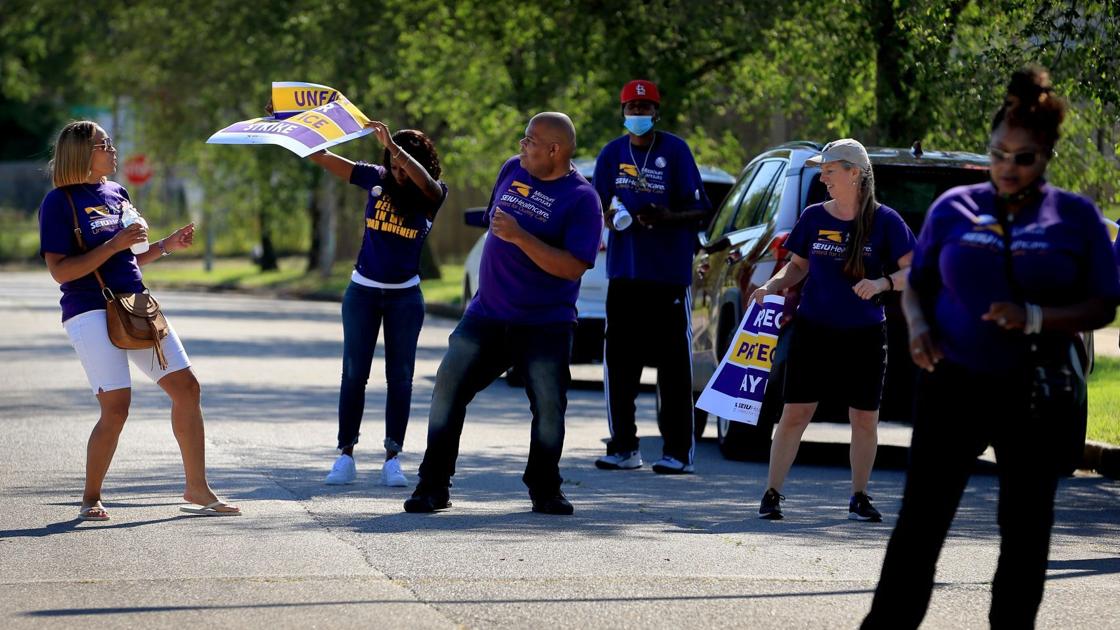 [ad_1]
CLAYTON – A union representing nursing home workers is calling for a government investigation into the operator of a 90-bed facility in the Jeff-Vander-Lou neighborhood.
The union, Service Employees International Union Healthcare Missouri, has been in contract negotiations for over a year with the owners of Blue Circle Rehab and Nursing, located at 2939 Magazine Street in St. Louis.
The facility is licensed for 90 beds and had 60 residents as of Oct. 24, according to data from the U.S. Centers for Medicare and Medicaid Services.
Lenny Jones, state director of SEIU Healthcare Missouri, said the union was pushing for higher wages, better health insurance and the possibility of forming a safety committee for the facility.
"We have tried to negotiate a new contract with improvements in safety and staffing, but the owners are negotiating in bad faith," Jones said.
More than a dozen workers have been on strike since Friday, and on Monday the union called on St. Louis and St. Louis County to investigate Blue Circle and other nursing homes owned by the same owners.
A lawyer representing the owners of the retirement home declined to comment on the union's demands.
The new ownership group, Blue Circle Holding LLC, has owned the facility since 2019, according to federal records. Jones said the new owners have accepted most of the terms of the previous contract. Then, in October 2020, negotiations began for a new contract. Jones called a 13-month negotiation "very rare" for a retirement home with an existing contract in place.
[ad_2]