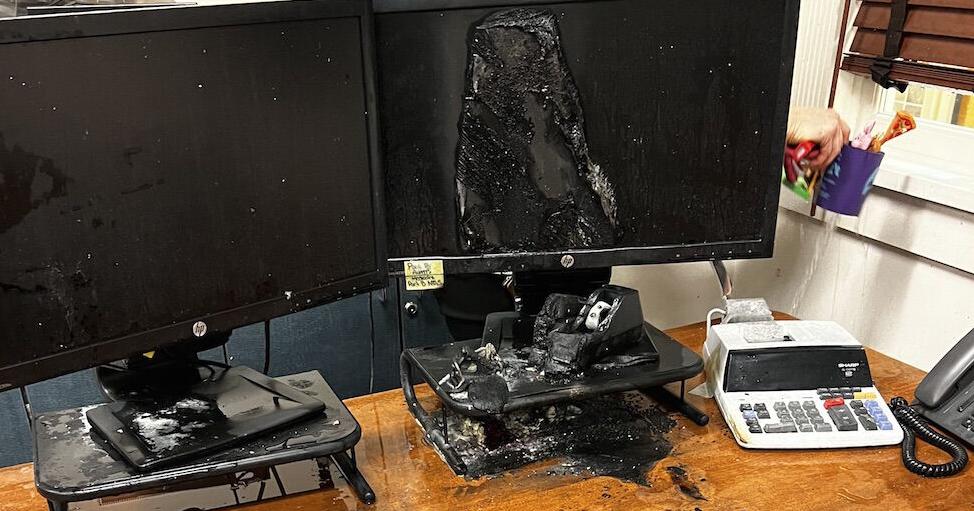 LYON — Salvage work continues at Wayne County Nursing Home, where the administrative wing suffered extensive water damage when a small fire set off the sprinkler system Thursday morning.
According to County Administrator Rick House, nursing home staff noticed a large amount of smoke coming from the office. They put out the fire, which was from a burning computer that House says was started by an electronic device that apparently ignited near the computer.
The smoke triggered the sprinkler system and over 3,000 gallons of water sprayed over the commercial area, soaking much of the office contents and eventually seeping into the retirement home's basement , where it damaged computer servers, telephone systems and other electronic devices. . House said the sprinkler system fired at 75 gallons per minute and released water for about 45 minutes.
"There is significant water damage and minimal smoke damage," he said.
House said the power was temporarily shut off to inspect the safety of the facility's electrical wiring.
"No staff or resident was ever in danger," he said. "No smoke entered the residential areas."
Recovery efforts continue, he noted. The county's information technology department was on hand Thursday to set up temporary servers so the nursing home could access its medical records system.
Servpro was called in to help with recovery efforts, House noted.
Nursing home administrator Jeff Stalker and compliance officer Collyn Algier are managing recovery efforts, House said, adding that the state Department of Health has also been notified.
Tours have been temporarily suspended due to water leaking into the main entrance. That restriction has been lifted, House said.
Administrative staff are moving to another part of the facility until remediation efforts are complete, House said.
Worker Kaycee Hutchinson said the fire was at her workstation. In a Facebook post following the incident, she said she was "on her way to work. I received a phone call saying our office had caught fire. When I walked in and I saw the damage, I was in shock. Our office, the entire foyer of the retirement home and several hallways were flooded by the sprinklers. All our files, soaked and so many things ruined. My computer, my keyboard, my mouse, my desk melted. What caused the fire? My computer — where I would have been sitting just 45 minutes later. My heart sank when I realized this.
Hutchinson said she was "grateful for my friends and family and especially for my colleagues and bosses who went out of their way to check on me today, give me hugs and just be a support system."
The Lyon Fire Department and Wayne County Sheriff's Office also responded to the scene.