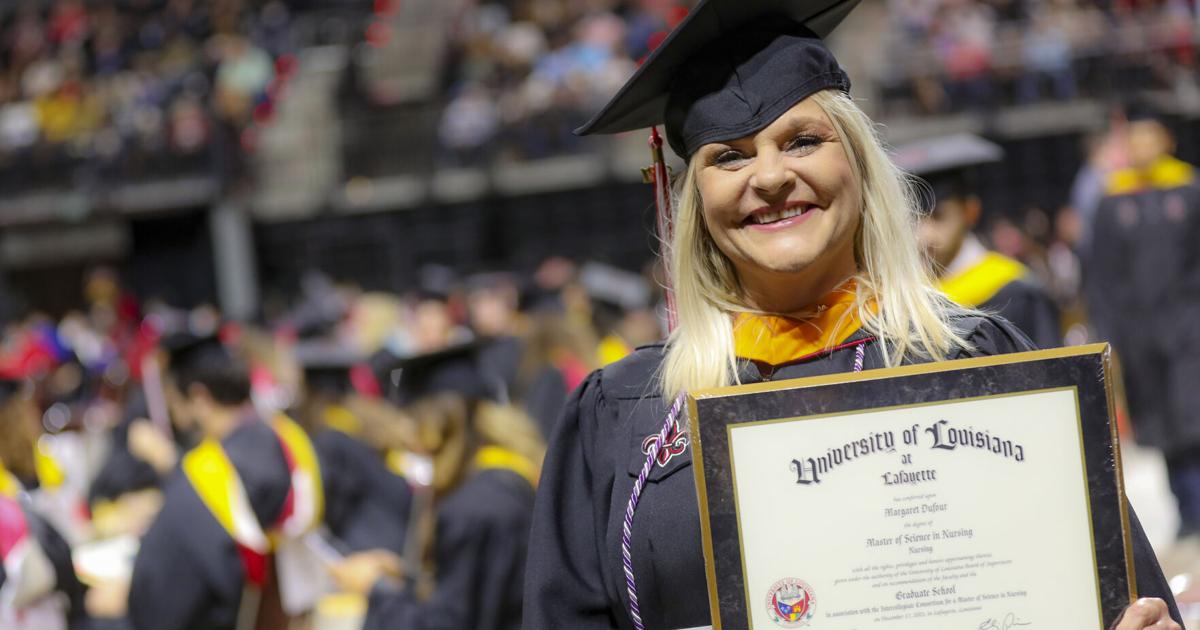 The University of Louisiana at Lafayette meets the needs of healthcare professionals and the communities they serve through several online degree and certificate programs.
The programs, offered through the university's College of Nursing and Allied Health Professions, aim to help current healthcare professionals expand their knowledge base and skills to improve patient outcomes. Programs include the Graduate Certificate in Cardiovascular Nursing, the Graduate Certificate in Population Health, and the Master of Science in Psychiatric Mental Health Nursing program.
"A considerable portion of Louisiana is designated as a health professional shortage area or a medically underserved area," says Dr. Melinda Oberleitner, dean of the College of Nursing and Allied Health Professions. "We designed these online degree and certificate programs to meet not only the urgent health care needs in our state, but also the personal and professional needs of our students."
Graduate Certificate in Cardiovascular Nursing
UL Lafayette began offering Louisiana's only graduate certificate in cardiovascular nursing program in 2019. The program is currently accepting applications for its fourth cohort, with classes beginning in March and ending in August.
Dr. Jennifer Lemoine, graduate studies coordinator, said health care institutions that employ graduates of the program have expressed tremendous satisfaction with the knowledge, skills and abilities acquired by students who have completed the program. Additionally, Dr. Lemoine said students who have earned the certificate often remark on how much they learned and how the program emphasizes the use of evidence-based practice guidelines.
"We believe this program not only advances the nursing profession, but also helps Louisiana residents, especially those who live in underserved areas and cannot necessarily travel to the nearest major city to specialized care," said Dr. Lemoine.
During the six-month program, students receive extensive training in diagnosis, medication management, cardiac monitoring, and the responsibilities of advanced practice nurses in the clinical care of cardiac patients.
The program is aimed at advanced practice nurses who wish to specialize their skills. Applicants must be certified as a nurse practitioner or currently enrolled in a family nurse practitioner program. Scholarships are available for qualified applicants. The application deadline for the six-month program is Friday, February 4. Classes are delivered entirely online. During the final term of the program, students gain experience with techniques and best practices through a clinical practicum coordinated with faculty and preceptorship institutions such as the Cardiovascular Institute of the South.
"It's a win-win situation for everyone," said Dr. Lemoine. "There are only three programs in the country that offer this, and UL Lafayette is one of them. It's wonderful for those with experience who want to learn more, those new to the field, and those interested in a job in the cardiovascular field.
Graduate Certificate in Population Health
This certificate is the college's newest offering and is now enrolling its first cohort, with classes beginning in March. Dr. Rachel Ellison, program coordinator, said the COVID-19 pandemic has led to a significant increase in awareness and interest in health outcomes and disparities between different populations – whether students are preparing to embark on this six-month program.
"The main topics we will be discussing are health outcomes, determinants of health, health policies and populations that do not receive adequate access to health care," Dr. Ellison said. "We're going to talk a lot about data and how they can use data to help those in need by improving population-level health outcomes. Students will learn innovative techniques to identify people with particular health determinants and how to provide them with better care.
The program is designed for practicing health professionals, including clinicians, administrators, managers, and analysts in health care and public health. Students must have a bachelor's degree in a related discipline to enroll in the 100% online certificate program. The deadline for applications is Friday, February 4.
Dr. Ellison said the certificate program will focus on issues that have been longstanding problems in Louisiana, especially in rural areas. The ultimate goal is to equip students with the knowledge to impact population health.
"The pandemic has really highlighted health issues and made more people pay attention to them," she said. "I hope this program will bring together people who have a common interest in learning how to bring about positive change in healthcare standards."
MSN, Nurse Practitioner Concentration in Psychiatry/Mental Health
Dr. Lemoine said this concentration was once offered several years ago and is being reinstated.
"With the increasing number of mental health cases in the state and country, especially with COVID-19, we saw the need to bring the program back," Dr. Lemoine said. "In Louisiana, 100% of the state is a psychiatric mental health provider shortage area, so the demand for care is significant."
Applications are now being accepted for classes to begin this summer. Students will enroll with their cohort in the program in the fall semester of 2022.
Dr. Lemoine said that students who choose this concentration will learn about the diagnosis and treatment of various psychiatric disorders. Courses will focus on how to make a correct diagnosis, develop care plans, medication management, and more for psychiatric patients across the lifespan in a variety of settings.
Students will also complete 600 direct patient care clinical hours as part of the concentration. Upon graduation, they will be prepared to work with other health care providers or lead a team of psychiatric and mental health care providers.
Many courses will be taught by award-winning faculty members and scholarships are available for qualified applicants.
"We have seen a real increase in both the need for mental health care and the interest of nurses and clinicians wanting to offer these services in communities," said Dr. Lemoine. "I've seen more people asking about it and getting interested in it, especially over the last three to five years. The need is still there, so we're happy to have the interest to bring that focus back.
The concentration consists of 48 credit hours and cohorts are enrolled in the fall and spring semesters. Applications are accepted and reviewed year-round for the next available admission cycle.
UL Lafayette also offers a Bachelor of Health Services Administration, an RN to BSN program, two additional concentrations as part of its Master of Science in Nursing program, and a Doctor of Nursing Practice program – all including online courses. Learn more about these and other online degree programs at online.louisiana.edu.