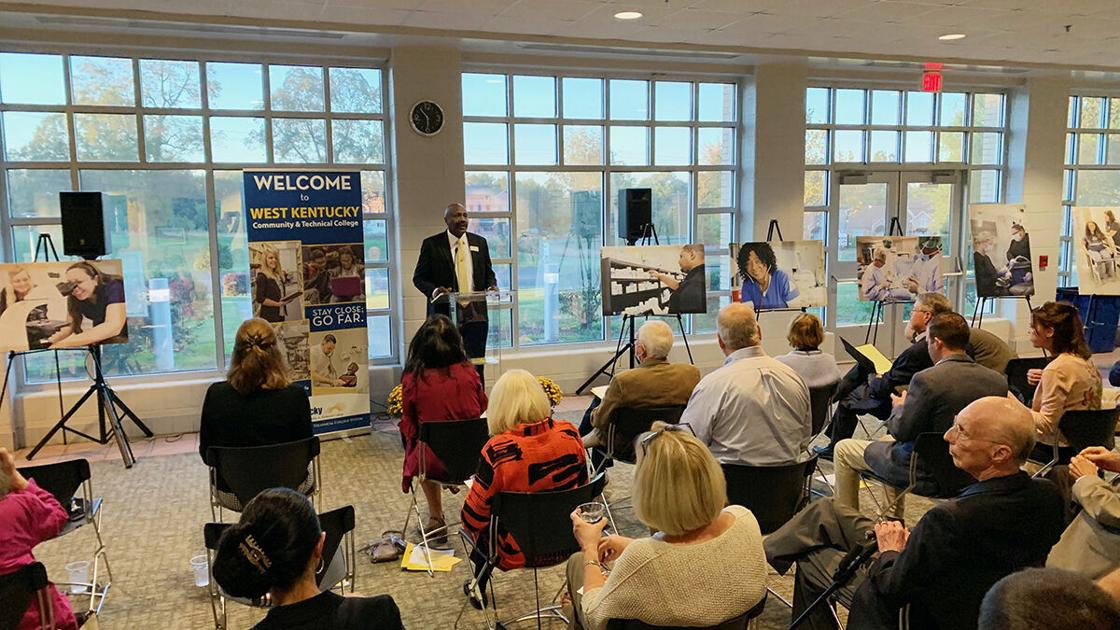 [ad_1]
PADUCAH – The West Kentucky Community and Technical College has launched an endowment fundraiser to support its health care education programs.
WKCTC's charitable foundation, the Paducah Junior College Foundation, on Tuesday kicked off the public phase of a $ 3 million endowment campaign called HealthCare COUNTS with around 50 supporters, staff and community members in the Allied lobby College Health Building.
The campaign will fund an occupational health care training endowment for WKCTC health care training programs, the college said in a press release. The campaign will continue until October of next year.
Paducah Junior College executive director Lee Emmons said the foundation has already raised 60% of its $ 3 million goal, thanks to people who have already responded to the campaign and some of the funding. philanthropist MacKenzie Scott donated to WKCTC last year. During the public phase of the campaign, the foundation is working to raise $ 1.8 million.
WKCTC said nomination opportunities are available for campaign donors, which provide a way to honor a loved one, draw attention to a business, or show a commitment to quality healthcare. and health care education in Paducah.
The college said the PJC Foundation will match every dollar raised by October 2022 up to $ 1 million. The Kentucky Community and Technical College System also provides matching funds for specific major gifts.
The WKCTC said Lee informed attendees of the launch event that anyone who donates $ 1,000 or more will be recognized on a donor wall in the entrance to the Allied Health Building. "I hope we have two walls. And every giveaway, no matter how much, counts," Lee said.
Citing reports on the Kentucky job, the WKCTC said there were 30,000 positions open for registered nurses in Kentucky, 8,000 positions for licensed practical nurses and at least 26,000 positions for allied health professionals, such as dental assistants, diagnostic ultrasound technologists, medical laboratory technicians, physiotherapy assistants. , radiologists, surgical technologists and pharmacy technologists.
Lee said graduates of WKCTC nursing and paramedical programs typically have 100% placement, and the Education-to-Work campaign and endowment will help ensure that healthcare education continues to meet the needs. of the work force.
To contribute to HealthCare COUNTS and the Healthcare-to-Work Endowment Fund, contact Lee Emmons at lee.emmons@kctcs.edu or 270-534-3084.
[ad_2]